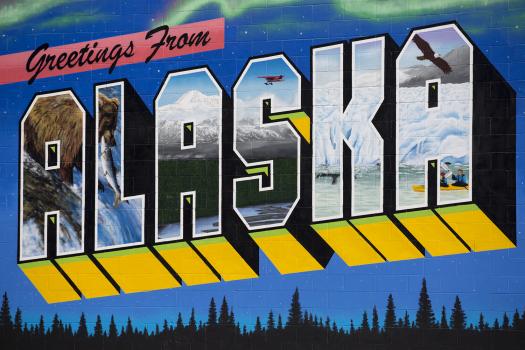 Overview
The Alaska fashion scene is a work in progress and it seems to be on the right track. The number of stores and boutiques that carry designer names has multiplied over the past several years, especially in Anchorage. Not only this, but local designers have been opening their own shops at a steady pace over the last few years. The designers here have all different types of styles. Some creations pay homage to Alaska, while others can only be described as one-of-a kind.
In addition to a growing fashion scene, Alaska is also home to a number of malls that keep the locals current on what's hot in the fashion scene in other parts of the country. In Anchorage, Alaska's largest city, 5th Avenue Mall and Dimond Center are popular haunts and in Juneau, Nugget Mall is the place to go for fabrics, footwear, and Alaska-themed fashions.
While Alaska doesn't have a Fashion Week, the number of fashion events such as fashion shows, design competitions, and even model competitions, is growing. Local designers, colleges, and art organizations host regular events mostly in Anchorage, Juneau, and Fairbanks. Other principle cities such as Badger and College also host a handful of events each year.
If you are considering a career in fashion or fashion merchandising and Alaska is on your radar, consider training here too. The art department at the University of Alaska offers concentrations in fashion, textiles, and retail.
Career Opportunities & Employers in Alaska:
Although salary and employment figures were not reported for Alaska fashion designers, the state is home to many salaried and independent designers. Pick up any local publication (online or otherwise) and you'll read about a local fashion designer and what his or her brand new shop has to offer. The state is also home to a number of textile companies and production facilities that hire fashion designers to work in textile design for product development, technical production, administration sales, design, and pattern making. In addition, many fashion designers also work in retail.
Alaska fashion merchandisers may have more opportunities thanks to the growing number of retail shops, boutiques, and shopping malls in the state. They may find work as buyers, visual merchandisers, store managers, account managers, display directors, and sales associates. Retail shops can be found across the state, but most opportunities can be found in Anchorage, Juneau, Fairbanks, Badger, and College.
Alaska Fashion Schools & Programs:
The National Association of Schools of Art and Design accredits approximately 300 postsecondary institutions with programs in art and design. These schools typically award degrees in fashion design, fashion merchandising, and fashion management. In Alaska, the University of Alaska at Anchorage is the best option. The school's art department offers a degree in art with concentrations in fashion, textiles, and retail. If you would like to take individual fashion courses, Prince William Sound Community College in Valdez offers courses in retail management and textile studies.
To begin training for a career in fashion design or fashion merchandising, it's best to enroll in a two- to four-year fashion program at an accredited college. While a select few very talented individuals may get by without a degree, most employers prefer candidates with a degree from an accredited college. If you plan to start your own business, consider combining your fashion design or fashion merchandising degree with a business or marketing degree.
For more information about the fashion design and fashion merchandising industries, visit the Bureau of Labor Statistics at Bls.gov.
Employment and Salary Trends for Alaska:
As of July 2011, the Bureau of Labor Statistics had not reported recent employment and salary figures for Alaska fashion designers or fashion merchandisers in any state. However, retail fashion merchandisers often work with window and store displays. Around 140 window merchandisers (visual merchandisers) work in Alaska today, up from only 50 in 2006.
Overall employment in the fashion industry is expected to grow by one percent for the 2008-2018 decade. Sewing and cutting jobs may decline as established designers and brands choose manufacturing companies overseas. However, employment of fashion designers is stable because many firms prefer to keep design work in house.
As of May 2008, the mean annual wage for fashion designers overall was $61,160. The lowest paid fashion designers earned an average annual salary of $32,150 and the highest paid fashion designers earned $124,780 per year. Because many fashion designers are self-employed, salaries may vary greatly. A top fashion designer can earn several hundred thousand up to millions per year.
Bureau of Labor Statistics Data
| | Number of jobs | Mean hourly pay | Mean annual pay | Job Outlook |
| --- | --- | --- | --- | --- |
| Fashion Job | | | | |