What do Account Executives do? Where do Account Executives work? FS takes a look: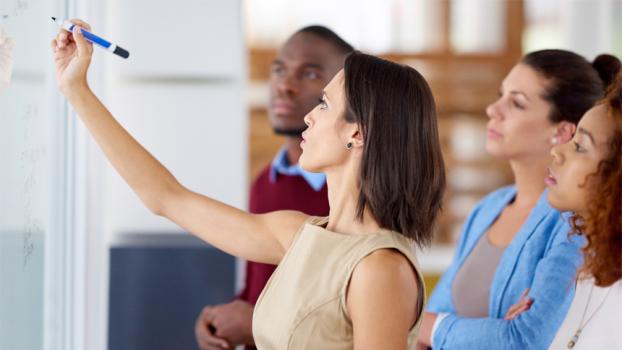 About Fashion Account Executive:
Account executives in the fashion industry are responsible for selling and promotions. They help promote and sell everything from retail chains to exclusive designer brands. Without the help of an account executive, your Sunday paper might not be filled with full-page Macy's or Apple Store ads!
Fashion Account Executive Job Description:
Also called "advertising sales agents," account executives promote fashion through direct mail, newspaper ads, TV and radio spots, billboards and other outdoor advertising and of course, over the Internet. Account executives will either meet with certain media outlets outside of the office or a representative will come to them. For the duration of the ad campaign or other advertising project, the account executive will become the representative's main contact.
Account executives work in just about every industry. In the fashion industry, they work in all areas from couture to cosmetics. Because a large percentage of the job requires coordinating, promotions, and selling, the job of an account executive can be a stressful one. However, for top producers, the financial rewards outweigh the demands.
Becoming a Fashion Account Executive:
Although not required, account executives typically have a degree in business, advertising, or public relations. If you do not have a degree in any of these areas, you should consider taking advertising, business, marketing, communication, and leadership courses. This is especially true if you do not have a strong sales background. Fashion industry account executives may also have a degree in a fashion merchandising, fashion retailing, fashion design or they may have taken courses in these areas.
A strong sales background is the number one requirement employer's look for as well as a magnetic personality, a professional appearance, and excellent communication skills. A good fashion sense is also extremely helpful if you plan to work for a top designer, an established boutique, high-end department store, or popular retail chain. 
Fashion Account Executive Education Training & Advancement:
Many schools offer certificates, associate and bachelor's degree programs in fashion design & related fields that will help jump-start one's career as an account executive. These programs expose students to practical opportunities in order to get started in the fashion industry, and give a solid foundation on which to begin a career. Some fashion schools will over specific lines of study for aspiring account exec's.
As important as formal education is establishing yourself as an effective sales/business development talent. An effective account executive needs to understand people, and how to get deals done. Often that's gained by on the job experience in a sales or business develop group; as well as marketing yourself.
Always have a good portfolio of ideas and strategies to present. Get your ideas out there, and be your own sales agent.
Fashion Account Executive Jobs & Careers:
At the time of this writing there were nearly 1,500 Fashion Account Executive jobs on Indeed. Regardless of the location, styles or trends, the fashion industry will always need to people to make the deals happen.
While specifc job duties will vary greater by level and by the company you work for, a typical account exec, can expect to touch:
Client relations
Budget management
Prospecting new business
Analyzing business trends and analytics
Billing & invoicing
Working with internal teams to ensure client expectations are met
Fashion Account Executive Salaries:
Account executive salaries can vary greatly thanks to generous bonus and commission plans. However, the Bureau of Labor Statistics reports that median annual wages for account executives were $43,480 per year in May 2008. The middle 50 percent averaged $30,750 to $64,320 per year and the highest 10 percent earned more than $93,360 per year. The lowest 10 percent earned $22,620 per year.
As stated earlier, salaries vary based on commissions and bonuses. Company size, experience, and even geographic location also affect how much you will make. For example, New York account executives average $67,870 per year, while Washington State account executives average around $53,400 according to the Bureau of Labor Statistics. However, many account executives earn $100,000 or more per year.  
Job Trends for Fashion Account Executive:
Account executives are in high demand. In fact, employment is projected to increase by seven percent for the 2008-2018 decade. Competition is expected to be keen, so bring you're A-game, especially if you're interested in breaking into the industry in New York, Los Angeles, Las Vegas, Miami, Dallas, or Atlanta. All are on the list of top fashion capitals of the world.