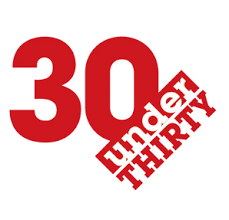 No one will deny that fashion is a tough business. The hours can be long and grueling, competition is fierce, and there are no guarantees as to how far you will go—and that's if you can even get your foot in the door. There's no need to get discouraged though, especially if you have what it takes to make it in today's multitrillion-dollar global fashion industry. If you are innovative, have loads of talent, drive, and stamina, and have the right education and training, you can bet your bottom dollar that you'll get noticed. And it could happen sooner than you think. This was the case with a promising group of today's young designers.
Not only have these designers passed through some of the top fashion design schools with flying colors, they've started their own burgeoning brands with a built-in cause. We found 30+ designers that pretty much blew us away on all levels, but alas—we have room for just five. We think you will agree that our best of the best budding designers under 30 are destined for fashion greatness.   
1. Lucy Jones, Age 24, Seated Design
At just 24, Lucy Jones is creating clothes that could change the world. Inspired by her cousin Jake, who has hemiplegia (paralysis of one side of the body), the 24-year-old Parsons School of Design graduate created "Seated Design." The collection, which was the designers senior thesis, featured clothes designed for wheelchair users—a population that is rarely represented in the fashion industry. Jake was Jones' first model.
The student designer created a pair of pants that Jake could put on with one hand. This led to one of the fashion industries most innovative collections, which featured modular pieces that incorporated elements such as zippers that run the length of the arm, added fabric on the elbows and kneecaps, and magnets and snaps that make getting dressed easier.
The collection was showcased at the Parson School of Design's 67th Annual Fashion Benefit, where Jones ended up winning the coveted Womenswear Designer of the Year award—presented to her by designer Marc Jacobs. But the accolades didn't stop there. That same day, Jones (along with a fellow student), won the "Empowering Imagination" competition sponsored by Parsons and luxury holding company Kering (Gucci, Bottega Veneta, Saint Laurent, Stella McCartney, Alexander McQueen, Balenciaga, Brioni). 
As part of the prize, Jones had the opportunity to display her collections in Saks Fifth Avenue windows and to participate in a mentorship program at Style.com. according to Fashionista, "Jones also received a $2,500 grant from The New School's social innovation initiative to continue working on her seated collection, which she plans to do while she gains experience as a designer."
Lucy Jones is definitely one to watch.
2. Azede Jean-Pierre, Age 27, Azede Jean-Pierre 
At just 27 years old, Haitian born, Atlanta-raised Azede Jean-Pierre has already caught the eye of Michelle Obama. The First Lady wore one of Jean-Pierre's creations on the cover of Essence Magazine, while Beyonce's little sister Solange and Gillian Jacobs are already devoted fans. 
Founded in February of 2012 and based in New York, Azede Jean-Pierre is an "independent women's ready-to-wear design label that walks the line between fashion and art, femininity and edge. It is dedicated to developing clothing that empowers women by pushing the boundaries of functionality and innovation, perfecting technique and achieving balance in wearability & design." According to the designer's website, the brand has another mission. "Azede Jean-Pierre has a goal to reduce poverty and promote long-term sustainable growth in developing countries similar to Haiti. Starting with the SS16 collection, Azede Jean-Pierre works with artisans in developing countries to develop and manufacture aspects of each collections. For SS16, the production of all embroidered styles will be produced in Haiti."
Jean-Pierre was already showing signs of becoming a superstar while just a junior fashion student at Savannah College of Art and Design (SCAD). According to Vogue Italia, at 23, the then design student had already "fashioned dresses for former Atlanta Mayor Shirley Franklin, hosted runway shows with over 200 attendees, and had one of her creations displayed in the windows of Neiman Marcus." Jean-Pierre also apprenticed under Ralph Rucci at Ohne Titel and she was named one of five up and coming designers by Polyvre.com. Vogue also mentioned that, as a SCAD student, the designer was set to complete a dream internship in London with the legendary house of Alexander McQueen.
We don't think that Azede Jean-Pierre is on her way. She has already arrived.
3. Madison Maxey, Age 22, The Crated
Madison Maxey knows a lot about fusing fashion and technology, and billionaire technology entrepreneur and investor Peter Thiel, co-founder of PayPal and early investor in Facebook, agrees. Maxey was the first fashion designer to be picked as a recipient of the $100,000 Thiel Fellowship, which awards "young people who want to build new things." The two-year program created by the Thiel Foundation led to Maxey's exit from Parsons after just one semester. It looks like she made the right decision. In 2013, this creative technologist founded The Crated—a Brooklyn-based design and engineering studio that "develops products, conducts proprietary research and provides insights to industry leaders with the hopes of making second-generation wearable technology mainstream." 
Maxey's core technology suite, INTELiTEX, "features washable, patent-pending technology to make any garment a smart garment." Her collection, Photochroma, features prints that respond to the sun. The Crated has been featured in Fast Company, Thrive Wire, Cool Hunting, and on Good Morning America, NPR, and Vice.
Need we say more?  
4. Ximon Lee, Age 25, XIMONLEE 
In January of 2015, Parsons menswear student Ximon Lee became the first U.S. designer to win the coveted H&M Design Award. He is also the first menswear designer to be awarded the prize. Lee's designs competed against the designs of eight top designers from around the world. The prize? €50,000 ($55,466 US) and the opportunity to develop pieces to be sold at select H&M stores and at hm.com each fall. 
According to Fashionista, Lee's winning collection focused on "exaggerated silhouettes composed of an unusual mix of fabrics, including plastic and cardboard." Inspired by a documentary about homeless children in post-Soviet Moscow, the collection is not the most wearable, says Fashionista, "but Lee hopes that the silhouettes will push menswear forward, or even appeal to women." After wining the prize, Lee said he couldn't imaging starting his own label without it. Since then, he has done just that. Based in Germany, XIMONLEE designs can be purchased from anywhere in the world online at Ximonlee.com.
Keep an eye on Ximon Lee. He's just getting started.  
5. Daniel DuGoff, Age 27, DDUGOFF
Who says menswear can't be as exciting as womenswear? It can be and Daniel DuGoff can prove it. DuGoff manages to pull in the opposite direction of everyday slacks and suits to bring us stylish rain jackets, hip ponchos, quirky quilted shorts, and trendy one-piece jumpsuits. If you do happen to find a button-up shirt in any of his collections, expect them to be adorned with vibrant graphics created by Daniel himself or in collaboration with artist friends—for special edition pieces. 
Daniel DuGoff launched New York-based DDUGOFF with the notion of creating "unbasic-basics," says the Council of Fashion Designers of America (CFDA). A graduate of the College of Architecture at Washington University in St. Louis, Daniel "pays particular attention to the fit and construction of menswear," a skill he acquired while working for Marc Jacobs. Says the CFDA, "the fine fabrics make the clothes special, but avoid being delicate or precious so they work with how you live your life." The press agrees. DDUGOFF has been covered in T Magazine, Interview, Selectism, Hypebeast, Monocle, and many others and his designs are sold in the U.S., Canada, Japan, and online. 
It looks like this edgy designer is well on his way to becoming a major player in the multitrillion-dollar global fashion industry.
Sources 
"About - The Thiel Fellowship." The Thiel Fellowship. The Thiel Foundation, n.d. Web. 29 June 2016.
Azedejean.com. Azede Jean-Pierre LLC, 2016. Web. 29 June 2016.
"Daniel DuGoff, DDUGOFF." Council of Fashion Designers of America (CFDA). Council of Fashion Designers of America (CFDA), n.d. Web. 29 June 2016. 
Fernandez, Chantal. "Parsons Student Lucy Jones Is Using Fashion to Create Social Innovation." Fashionista. Breaking Media, Inc., 21 May 2015. Web. 29 June 2016. 
Kering. Kering Holding, n.d. Web. 29 June 2016. 
Lyden, Jacki. "From Canes To Closures, Designing With Style For People With Disabilities." NPR WBEZ. NPR, 25 July 2015. Web. 29 June 2016. 
Mau, Dhani. "24-Year-Old Ximon Lee Becomes First Designer to Win the H&M Design Award." Fashionista. Breaking Media, Inc., 27 Jan. 2015. Web. 29 June 2016. 
Suh, Steve. "DDUGOFF 2015 Spring/Summer Collection." Hypebeast. N.p., 11 Feb. 2015. Web. 29 June 2016.
Sulmers, Claire. "Azede Jean-Pierre - Vogue.it." Vogue Italia. Conde Nast, 04 July 2011. Web. 29 June 2016. 
The Crated. Madison Maxey, n.d. Web. 29 June 2016.
"The True Cost of The $3 Trillion Fashion Industry." Bloomberg.com. Bloomberg, 29 May 2015. Web. 29 June 2016.
"2016 FORBES 30 Under 30: Art & Style." Forbes. Forbes Media LLC, 2016. Web. 29 June 2016.