What do Accessories Designers do? Where do Accessories Designers work? FS takes a look: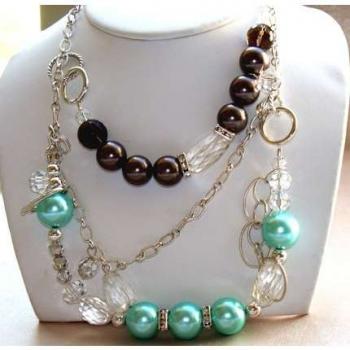 Alternate Titles For the Role
Jewelry Designer
Handbag Designer
Shoe Designer
Accessories Designer Job Description:
An accessories designer is generally responsible for conceptualizing, developing, and creating designs of jewelry pieces, handbags, hats, belts, gloves, scarves and other items that will be used to compliment clothing apparels. Most accessories designer professionals start their careers at home. This makes accessory designing a very attractive field for young aspirants.
Today, most accessories designer professionals manage their own accessory line. In fact, this has been a very common career move since you do not have to pull out a big capital in order to make your business operational. In addition to that, the power of internet marketing and advertising has greatly influenced young entrepreneurs to manage their own accessory line. An increasing interest on accessories designer careers has been noted due to the lucrative business opportunities being offered by the fashion industry. Moreover, income ranges of most accessories designer professionals are more than enough to live a very fulfilling lifestyle.
The growing demands for different types of accessories have also prompted accessories designer aspirants to try the field. The continuous fascination of people towards the fashion industry will absolutely generate more job opportunities for aspiring accessory designers. Furthermore, the glitz and glamour that the fashion business offers is something that you would not want to pass up. In fact, accessory designing alone already promises a remarkable growth in terms of potential profit and projected income.
Accessories Designer Education Training & Advancement:
There are a number of diploma, certificate and undergraduate accessories designer programs being offered by various Fashion design schools. The length and scope of an accessory designer program varies greatly from school to school. Some only last for six months while others can last for years. Of course, those who want to land good job offers should consider enrolling in higher educational programs.
An aspiring accessories designer is normally exposed in the following areas of fashion accessory designing:
Old and Current Fashion Trends
Fashion History
Accessory Designing and Conceptualization
CAD (Computer Aided Design)
Fashion Drawing and Design
Fashion Marketing and Advertising
As for the accessories designer programs available, here are your options:
Certificate Programs: This course program is ideal for accessory designer aspirants who want to learn about the basics of accessory designing. Certificate course programs are basically your stepping stone to a much higher educational degree.
Degree Programs: Associate and Bachelor Accessories Designer degrees fall under this category. Those who want to undergo extensive accessories designer training should opt for either a 2-year or 4-year course program.
Advanced Studies: Those who have successfully satisfied the 4-year degree program should elevate their educational value by pursuing an advanced studies program. More lucrative and high-paying job offers are waiting for accessory designer aspirants who can satisfy this program.
Although accessory designing doesn't necessarily require aspirants to have a special degree, it is still highly recommended that you get a formal training from trusted Fashion Design Schools offering programs focusing on accessory design in order to increase your chances of landing excellent job opportunities.
Apart from that, applicants must also gain relevant experiences through internship programs and field work in order to hone their innate talents and develop their design skills. A good accessories designer must possess the following qualities:
A keen eye for details
Strong determination
Success-driven
Excellent designing skills
knowledge in Computer Aided Designs
Exceptional marketing and advertising skills
Good leadership qualities
broad knowledge about the changing accessory trends
outstanding creative expressions
a good understanding on the manufacturing and production industry
ability to produce low-budget designs without compromising quality
Accessories Designer Jobs & Careers:
Design Assistant/ Freelance Accessory Designer > Associate Staff Accessory Designer > Accessory Designs Director
Accessories Designer Salaries:
The income range of accessories designer is varied depending on their field of expertise, specializations, skills, educational background and experiences. As for those managing their own business, profit is dependent on the volume of accessories that they were able to sell. Those who are just starting out in the business should expect lower income but as soon as they get to establish their work they can earn as high as $400 - $800 per accessory.
In general, the field of accessory designing is very promising since the ever-changing fashion trends will continue to generate more lucrative job opportunities.
Job Trends for Accessories Designer :
Accessory designer applicants will definitely face a very competitive field. As more and more people become interested in the world of accessory designing, competition is expected to become tighter.
Accessories designer professionals can either work under a big design company firm or they can opt to manage their own business. Moreover, accessory designer professionals are also very versatile in terms of scope of work. They can work in a more generalized fashion environment or they can focus in a particular design area which includes costumes, jewelry, leather goods, handbags and other fashion ornaments.
A freelance accessories designer, on the other hand, can use the internet to market their accessory line and to showcase their capabilities. To become successful in this fashion field, you have to be self-motivated, strong-willed, creative, and skilled.